(Israel/USA)
website/ facebook / twitter / soundcoud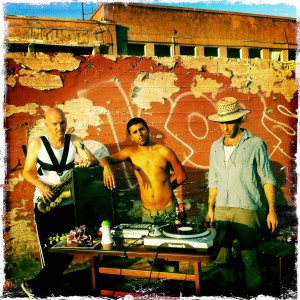 "If BBB is world music, it's in the most literal sense – because it can move anyone in the world."- Time Out
New York based Balkan Beat Box blend Balkan brass, earth shattering bass, hip-hop and dub electronics to exhilarating effect. Their live shows are explosive affairs, with singer Tomer Yousef delivering his politicised lyrics with passionate performances always sending audiences into a frenzy.
Founded in 2005 by Ori Kaplan (previously of Gogol Bordello) and Tamir Muskat (of Firewater) Balkan Beat Box burst out of New York City's underground in 2005 introducing the world to their distinctive brand of electronic dub and Gypsy Punk.  In 2006 frequent collaborator Tomer Yosef was appointed frontman, galvanizing audiences with his wild stage presence and infectious energy. This confirmed BBB's reputation as a formidable live act, seeing them become a favourite of audiences and critics alike the world over.  Combining a solid rhythm section of hip hop, funk and reggae influences with exotic brass, earth shattering bass and experimental electronics, Balkan Beat Box provide the perfect soundtrack for Yosef's trailblazing vocal delivery. The result is an intoxicating and intense sonic assault which takes no prisoners and makes no apologies for its outspokenness.
Over three albums the band have constantly explored new musical territory, with Tamir crafting hard-edged beats, Ori orchestrating melodies and Tomer penning heavily politicized lyrics. They've visited the Balkan and Mediterranean diaspora of their namesake in 2007's Nu Med, (JDub, 2007), the Far East with Blue Eyed Black Boy, (Nat Geo, 2010) and produced an exhilarating hybrid of electronic raga on Give (2010, Crammed). The Independent has called them "deftly programmed global fusion" adding "a band I can't wait to see live."  Give is inspired by protest movements across the globe from the Arab Spring to Occupy Wall St. and captures the spirit of hope and defiance of recent times. The album was widely celebrated in the press, with Songlines saying: 'BBB are as outspoken and uncompromising as ever. It's hard to resist the album's intensity'.
Balkan Beat Box are passionate about the power of music to make positive change. In the spirit of great protest artists Woodie Guthrie, Bob Dylan, The Clash and Rage Against The Machine they harness their anger about injustice and corruption in the world and draw influences from across the globe to create a powerful and vibrant music. What's more they deliver it with an intensity and joie de vivre that has to be seen to be believed.
DISCOGRAPHY
GIVE (Crammed Discs)
BLUE EYED BLACK BOY (Crammed Discs/Nat Geo Music)
NU MED (Jdub Records/Crammed Discs)
BALKAN BEAT BOX (JDub Records)