(Switzerland)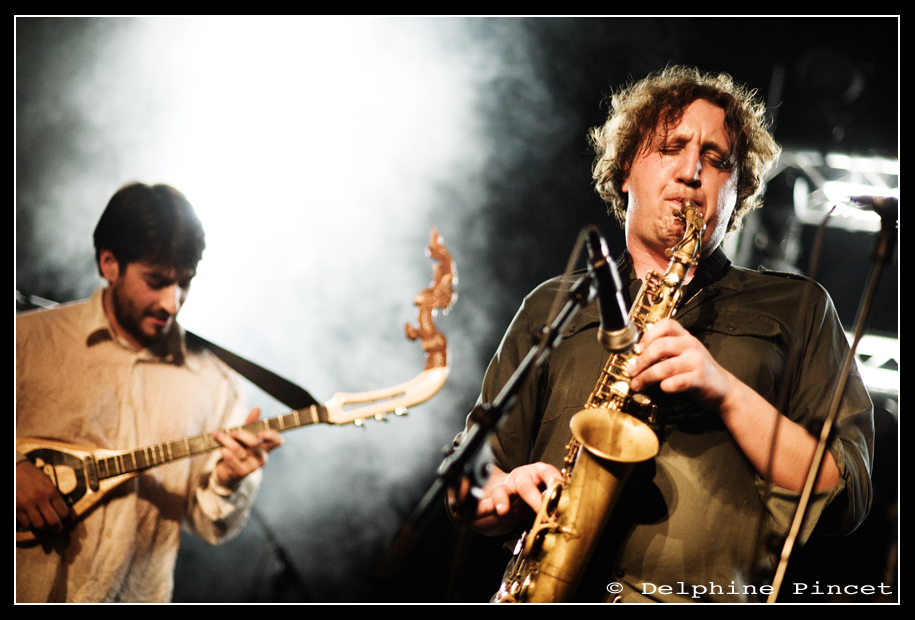 The finest connoisseurs and grooviest performers of Ethiopian music from the Golden Age and contemporary Ethiopian music, adding in the mix free jazz, noise experimentations, contemporary music, re-invented psychedelic music, strange pop, bizarre rock.
**** R2   ***  Mojo  **** Uncut   **** Songlines   **** The Guardian  ***** Independent On Sunday 'Superbly drilled, Exuberant meeting of world music and greasy funk'  Sunday Times Culture
Raphaël Anker, trumpet player from Geneva, one day decides to gather musicians for a live performance revisiting the golden age of Ethiopian music, the sound of Tlaloun Gessesse, Getatchew Mekurya, Mulatu Astatke, Mahmoud Ahmed and other legends. It's 2007, and the experience is so memorable that the one shot happening becomes a band: Imperial Tiger Orchestra, a nod to the Imperial Bodyguard Band from Addis-Abeba and to a classic line from Monthy Python's The Meaning of Life. A tiger – in Africa? …Well it doesn't sound very likely…
Consisting of members with very diverse backgrounds the Orchestra tests the grounds with an  EP and a 7″ breaking the boundaries of genres followed by a trip to Addis-Abeba in 2009 where they perform with local luminaries and learn about the large diversity of Ethiopian music. A life-changing experience which brings them back to the studio for their debut album: Mercato.
Overseen with flair by Ethiopian music expert Jeoren Visse, Mercato is a mesmerizing re-interpretation of Ethiopian music's golden age mixed with the digitalized themes that appeared in the 80s and filtered through the eclectic influences of the Orchestra. Instruments such as the kebero (the most iconic percussion instrument of the country), the Indian dholak, the Thai cymbal, the traditional Thai phin, or the krar (an Ethiopian lyre) follow hypnotizing drum patterns and layers of MIDI sounds. It's a fascinating retro-futuristic piece of music, close yet totally different from the songs that inspired the band. It's progressive Ethiopian rock!
This new record undoubtedly confirms the band's wider knowledge of Ethiopia's musical diversity, while  allowing them to express their desire of choosing a route not taken by many. Whether it's saluting the  phenomenal Mahmoud Ahmed on the splendid "Lale Lale", re-interpretating the classic wedding theme  "Shinet", or taking Martha Ashagani's "Zoma" to new heights, the Orchestra always does it with a  unique vision while at the same time honoring the originals. Popular songs magically become classy instrumentals. Thunderous rhythms and feverish hooks, down tempo moments and fast paced epiphanies, electronic sounds and ambient nirvanas, Mercato explores multiples paths and never loses  its warm groove, from "Yedao", the Rahel Yohannes cover that starts the record, to the collaboration  with Bethelem Dagnachew whose high pitched voclas close the full-length in the most enchanting way.
DISCOGRAPHY
Wax  (Moi'J'Connais)
Mercato (Mental Groove/Absinthe Music)
Addis Abeba Mental Groove/Absinthe Music)