(Switzerland)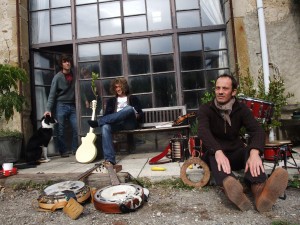 From the seemingly placid shores of Lake Geneva comes a sonic earthquake. It's the ragged punk Cajun sound of a Swiss trio. Fusing the old time French migrant music of Louisiana with garage rock'n'roll, Mama Rosin create an alternative raw incendiary music & attract international attention. They burst into view with a breakthrough performance on BBC TV's Later…with Jools Holland, bringing in thousands of new fans & confirming their place amongst the hottest new bands of 2011….
Mama Rosin – their name comes from a Cajun song – were formed by Cyril Yeterian (melodeon, vocals, guitar) and Robin Girod (guitar, banjo, washboard, vocals). They started jamming and found they shared a similar enthusiasm for hardcore rock'n'roll and lost American roots music. Their first ever gig, supporting The Dead Brothers, won them a deal with Voodoo Rhythm, the infamous Swiss garage punk label. They cut their debut album Tu As Perdu Ton Chemin in a matter of hours; it was given very little promotion but Ton Chemin found its way to music fans and tastemakers across Europe. In the UK, Radio 2 DJ Mark Lamarr was the first to spot them. Today, as the band's name spreads quickly, their music captivates lovers of both rock and roots music alike.
The band's visit to Louisiana was truly an eye-opener: the local youth loved their punk-flavoured approach to Cajun and Zydeco while the elders wept and spoke of Cajun culture being decimated. "Cajun culture is being killed step by step by American culture. People forget to speak French, forget to play their own music. For a long time it was really bad to say you were a Cajun. But the young generation invited us to Louisiana and they had tears in their eyes when we played. They give us the credibility. It really touched our hearts. We speak French with them and we understand one another." Mama Rosin are however reluctant to play on the ancient historic bonds between France/French and the Cajuns. Robin adds that Cyril was born in Lebanon to Armenian parents who fled to Europe when war broke out in Beirut. It is just a coincidence, he insists, that they are French speakers.
If Mama Rosin cite Amede Ardoin, the pioneering black melodeon (small accordion) player of the 1920s / 30s as an inspiration and their favourite Louisiana artists tend to be Zydeco musicians – the black Cajuns who infused Cajun music with a strong dose of blues and rock'n'roll – the band also look to The Velvet Underground, The Clash, Serge Gainsbourg and The White Stripes as influences. "Our sound starts in the Louisiana juke joints," says Robin, "but we like the Texas sound, calypso, the Spanish sound, the blues sound. All those styles were kicking around Louisiana, the Caribbean, the Gulf of Texas one hundred years ago. We feed off them but then we take off on our own!"
DISCOGRAPHY
Bye Bye Bayou (Moi J'Connais)
Louisiana Sun (Voodoo Rythm)
Black Robert (Gutfeeling)
Brule Lentement (Voodoo Rythm Records)
Tu As Perdu Ton Chemin (Voodoo Rythm Records)