(Jamaica)
website / facebook / twitter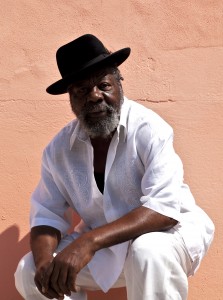 Legendary Reggae vocalist known as 'The Originator' . In the 1960's and 70's U-Roy changed the sound of Reggae and Dub music forever by creating a unique style of vocal delivery called "toasting", making an unparalleled contribution to the Jamaican vocal tradition.
'An originator who still leaves the imitators behind"-  **** Echoes magazine
"Sounding much younger than he is, Daddy U-Roy toasts over a fine selection of classic riddims and newer ones with an unostentatious classic feel with perfect ease"-  ReggaeVille.com
His distinctive phrasing, jubilant lyrics and charismatic shrieks of exultation delivered over instrumental tracks became his trademark, influencing a generation of "deejay" vocalists such as I-Roy, Prince Jazzbo, Dillinger and Big Youth and paving the way for American rap music to follow.
An undisputed reggae music legend, U-Roy has worked with a calling card of famous producers such as King Tubby, Duke Reid, Lee 'Scratch' Perry and Mad Professor, with whom he recorded an extensive catalogue of hits from the golden age of reggae.
"Daddy" U-Roy also founded King Stur-Gav Sound System, revered in Jamaica and across the world for bringing the best microphone talents together to hone their lyrical skills and provide a platform for many great selectors.
He was also a favourite of The Clash's Joe Strummer and found a new audience when the UK punk movement discovered reggae. In the 1970's and 80's British Record label Virgin released classic U-Roy albums such as Dread In a Babylon, Natty Rebel and Attack.
Last year U-Roy released his first studio album in ten years Pray Fi Di People, which features guest appearances from fellow all-stars Horace Andy and Marcia Griffiths as well as younger artists such as Professor, Chezdek and Tiken Jah Fakoly. Having made an everlasting contribution to the music of his homeland, U-Roy continues to bring his unique and wonderful music to the world today.
DISCOGRAPHY
many…..