(Spain/Mozambique)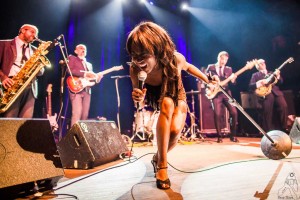 The Excitements are a heady cocktail of old school soul and authentic, gritty r'n'b delivered straight from the hip with a whole lot of style and attitude.
'The Excitements have provided a straight-to-the-point antidote of full-pelt soul and R&B….attacking their work with a spirit recalling the UK soul circuit circa 1965.'- Mojo
'In the James Hunter and Sharon Jones territory of the early-mid-60's R&B and Soul….this is just 100% authentic. What is even more incredible is almost all titles are self-penned, and yet they sound instantly classic. This is easily one of my albums of the year. A beautiful thing indeed.'- Blues& Soul
 '…proof that vibrant old school soul music, played with verve and commitment, still retains bite and relevance…deliver scorching passion plays and primed with rasping sax. EXCELLENT.' – **** Daily Mirror
Drawing influences from the hall of fame of American r'n'b such as Etta James, Ike and Tina Turner and James Brown, The Excitements pen their own original material, taking the best elements of Stax, Chess era soul to create an instantly classic sound with a rare vintage sensibility. In their live incarnation the band is a force of nature. Fronted by vibrant and vivacious lead singer Koko-Jean Davis whose explosive vocals will satisfy any traditionalist, The Excitements blend funk guitar riffs with a tight rhythm section of bass and drums with alto and baritone sax delivered with relentless energy and razor sharp musicianship.
Formed in Barcelona in 2010 and with 2 albums already under their belt, The Excitements have quickly earned a huge fan base in Spain and Europe. Don't miss the opportunity to join the cult of The Excitements when they come touring the UK.
DISCOGRAPHY
Sometimes Too Much Ain't Enough (Penniman)
The Excitements (Penniman)