Sahara Soul II
Aziza Brahim (Western Sahara), Tartit (Mali), Nabil Baly Othmani (Algeria), Noura Mint Seymali (Mauritania)
and special Touareg guests Abdallah  (Tinariwen), Ousmane (Tamikrest), Sanou (Terakaft)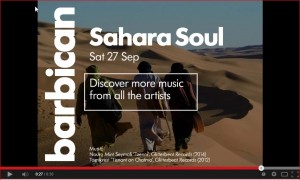 27 September 2014, LONDON Barbican Hall
Mali's contribution to the desert Blues music of North Africa has been well documented in recent times with artists such as Bassekou Kouyate & Ngoni Ba, Tamikrest and Sidi Toure (who featured on the first edition of Sahara Soul at the Barbican in 2013) joining fellow countrymen Tinariwen, and Ali Farke Toure on the international stage.
Now the world is noticing the wider context in which this music was made: the vast and mystical territory known as The Sahara. Spanning the length and breadth of North Africa, the Saharan region encompasses a multitude of nomadic communities spread over a dozen of African countries. Home to these people for millennia, this beautiful, remote and inhospitable land has captured the imagination of travellers for centuries. Now, however, it has become an area known as much for conflict and human suffering as it is for its artistry.
This second instalment of Sahara Soul brings together a young generation of Saharawi, Tuareg, Berber and Mauritanian artists whose music embodies their ancient heritage and struggle for survival in the modern world. Women serve as the backbone of these ancestral cultures and this evening's programme emphasises this by focussing on powerful young female singers as well emerging male talent.
Sahara Soul celebrates the creative vitality of this boundless expanse of desert, home to so many talented artists and diverse musical styles. This is the new sound of the Sahara: beguiling and sad, hypnotic and ethereal, serene yet defiant – the sound of the greatest desert on Earth.