(France/USA)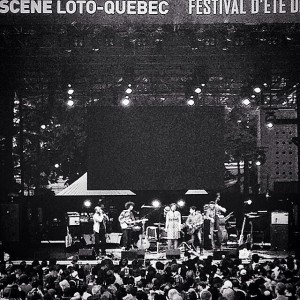 Named after Jack Kerouac's notorious On The Road Character Dean Moriarty, this band of childhood friends create an impressive modern bohemian sound of some sort. 
'Moriarty are not your average indie-rock band or streamlined electro-pop unit' notes the Guardian, 'they're a ramshackle olde worlde acoustic outfit with a theatrical bent'. Moriarty takes its inspiration from traditional Celtic music, Irish folk, country and blues, soul and old-fashioned rock'n'roll. They also cover standards and creates rock compositions.
Their first single Jimmy (from the album Gee Whiz But This is a Lonesome Town) which sounds like it was recorded around the turn of the 19th century, was a success and launched the band internationally. Their debut album Gee Whiz But This is a Lonesome Town (Naïve Records, 2007) went to sell 170,000 copies worldwide and was certified Gold in France. Their second album, The Missing Room (released on their own label  Air Rythmo, 2011)  is a more stripped-back and acoustic affair. Then in 2013, following a meeting with Swiss band Mama Rosin, they released Moriarty Meets Mama Rosin (Air Rytmo, 2013), an collection of 5 songs of collaboration with the Cajun Punk outfit. In 2013, Moriarty released their latest effort Fugitives (Air Rytmo), interpreting songs which made the American myth and described in fRoots as  'a concept album of some sort, …. all very folksy and arty-crafty ….connecting ancient and modern, physical and digital, academic and instinctive, and joyously rocks the house in the process' .
Live, Moriarty combined entrancing sounds of guitars, harmonica, xylophone, banjo, kazoo, bass and more seemingly randomly choice of instruments with the soulful, seductive and pure voice of lead singer Rosemary, a cross between Joan Baez, Gillian Welch and Nina Simone,  and deliver an off-beat structure and glaring melodies to some intriguing effects.  'Moriarty's exponentially surreal aural cocktail is a bewitchingly refreshing tonic that tantalizes the senses' declares The Beat.
DISCOGRAPHY
Fugitives (Air Rytmo)
Moriarty Meets Mama Rosin (Air Rytmo)
The Missing Room (Air Rythmo)
Gee Whiz But This is a Lonesome Town (Naïve Records)