(Bosnia)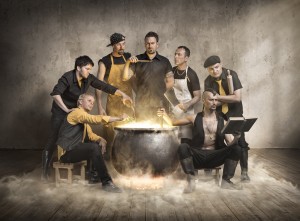 Dubioza Kolektiv is a Bosnian collective that came of age during the Sarajevo bombings. They made a place for themselves by putting on incandescent shows, by speaking out about oppression and by their natural talent in lighting up Balkan music.
Dubioza takes Bosnian folklore and throws in a dash of modern music, from hip hop, metal, electro or dub to ragga, ska and rock. The resulting cocktail is perfectly dosed for setting the stage alight. With a mix of humour and gravitas the Bosnia-Herzegovina collective is seen as the unofficial representatives of the country's youth. Their music is an explosive and jubilating maelstrom !
"Wild Wild East"(Koolarrow Records, 2011) is the sixth and latest release in their 8 years of existence. Dubioza Kolektiv releases album in their native language and the following year, the same album but in English. Tireless activists, their subjects revolve around subjects of peace and tolerance alongside an extreme criticism of nationalism and cultural stereotypes. The music is relentless and habit forming, tailor made for massive sound systems.
In addition to selling out arenas in the Balkans,  Dubioza have played major festivals across Europe, including  Sziget Festival, Exit Festival, Eurosonic Festival, Rototom Festival, Colors of Ostrava Festival, Fete de l'Humanite, Balkan Trafik Festival, Couleur Cafe Festival, Fusion festival.