(USA)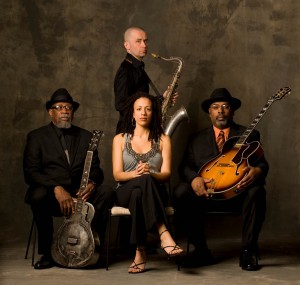 Like a blues version of Buena Vista Social Club, Heritage Blues Orchestra is about the indomitable human spirit as expressed in hollers, spirituals, gospel and the blues of the African-American south.
It is truly a showcase of the blues and its roots, an inspiring testament to the enduring power, possibilities and boundless beauty of African-American. It drives us down Highway 49 from Clarksdale to New Orleans, journey across the Middle Passage, takes us from chain gangs and juke joints to orchestra pits and church pews and even to back porches that is definitely danceable, sing-able, and ultimately, memorable, and from a band of incredible depth.
Signed to Raisin Music, the band released its debut album And I Still Risein February of 2012 – Heritage Blues Orchestra has been nominated for a 2013 Grammy Award for their debut album: "And Still I Rise"and  for 2 Blues Music Awards 2013 in the categories  'Best Album' and 'Best Traditional Album'and has won the Living Blues Critics Poll Award 2013 for 'Best Debut Album'.
THE INDEPENDENT  ★ ★ ★ ★
http://www.independent.co.uk/arts-entertainment/music/reviews/album-heritage-blues-orchestra-and-still-i-rise-raisin-music-7582221.html
'The Heritage Blues Orchestra are like a more potent Carolina Chocolate Drops, their basic guitar, harmonica and handclap grooves given further colour and character by bustling drums and the inventive horn arrangements of French saxist Bruno Wilhelm. Their potent thump, twang and honk injects wallop into Son House's "Clarksdale Moan" and a fast, hard-rolling feel to Muddy Waters's "Catfish Blues". Elsewhere, railroad shuffles, swampy slide-guitar throbs, gospel call-and-response chants and a reggae-like take on Rosco Gordon's jump-blues slouch are applied. The results are never less than infectious.'
NO DEPRESSION ★★★★
http://www.nodepression.com/profiles/blogs/heritage-blues-orchestra
Heritage Blues Orchestra's sound recalls the early earthy, roosty stomp of Ry Cooder's '74 release, Paradise and Lunch, tempring it with a dash of Eric Bibb, giving it a unholy mix of back porch fonk and Sunday go-to-meeting gospel soul. …Even though the core trio has no problem laying down hard core, floor thumpin' blues on their own, the music rises to another level when the horn section jumps in.
AMERICANROOTSUK  ★ ★ ★ ★★
http://www.americanrootsuk.com/heritage-blues-orchestra—and-still-i-rise.html
All in all, as stated earlier, this is a tremendous album that whilst it encompasses many of the styles in African American music it also brings those styles bang up to date and with a vengeance!
 DISCOGRAPHY
And I Still Rise (Raisin Music)  Grammy Awards nominated