(Mali)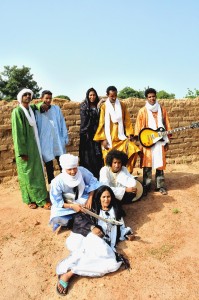 "It is Tamikrest who have emerged from the Sahara with the most interesting material … It's a super sound, with an effortless, yet focused groove." – The Quietus
Formed in 2006, Tamikrest are from Kidal, a remote desert town in the northwest of the Sahara, some 2,000 kilometres north of the Malian capital Bamako. The band members are all Tuareg, a group of people spread over North West Africa from Niger to Mali, Algeria and Libya.
After a bloody civil war with the Malian government in the 1990's, many Tuareg fighters traded their Kalashnikovs and hand grenades for guitars and microphones. From this tradition the distinctive Tuareg sound was born, spawning the mighty Tinariwen and, in turn, Tamikrest.
Tamikrest's music is a synthesis of this traditional Tuareg sound and Western influences like psychadelica, reggae and rock. The bands leader Ousmane Ag Mossa says: "When I was young I listened to a lot of traditional Tuareg music as well as Tinariwen. There was no other music..it was only in 2000 that I had access to cassettes of Bob Marley and Dire Straits. That changed my musical visio. Music is just music, no matter where it comes from. My goal is to broaden my horizon step by step."
Their first album Adagh was realised in 2010 on Glitterhouse Records and won them much praise. MOJO said: "Tamikrest are a 21st century rock group who just happen to live in the middle of the desert. Adagh is the sound of a second generation of Tuareg musicians preparing to go global."
With their second album Toumastin the young Tuareg rebels developed their sound further, bridging the gap between African Blues, hypnotic dub and a distinctive desert garage. The guitars were more prevalent, the groove deeper and Tamaschek chants merging with layered guitar riffs in a sound at once both rich in tradition and forward thinking. fRoots described is as "a solid follow-up to consolidate the band's place at the peak of the rockiest end of the desert blues outcrop."
In 2013 the band toured the UK with the hugey successful Sahara Soul tour which played a sold out Barbcan Concert Hall, Celtic Connections and La Gaite Lyrique Paris. Tamikrest will play Womad and Latitude Festivals in the UK in Summer 2013 before releasing their third album in September and touring the UK in October 2013.
For many, Tamikrest are the future of Tuareg music, with a sound both authentic and progressive.
DISCOGRAPHY
Chatma (Glitterhouse)
Toumastin (Glitterhouse)
Adagh (Glitterhouse)